Complete WindSUP set - just inflate the board, rig the sail and go to the water
Allround board with very wide range of use
Durable aluminium paddle
Rig fits into compact bag
Grippy, comfortable deck pad
Set includes backpack, leash, pump and repair kit
UNIFIBER Complete WindSUP set Oxygen FCD 10'7'' + Glide Rig
COMPLETE WINDSUP SET
Board size:

 

10'7
Sail sizes: 4.5
Complete WindSUP set ready to go to the water. The set includes an Allround WindSUP board, compact rig, a durable aluminum paddle and a set of accessories to make your life easier.
The board, paddle and all accessories fit in the backpack. The rig fits into a bag. The compact dimensions when folded make this set a perfect travel companion. It easily fits in any car's trunk. In addition, it takes up very little space in your garage and fits even in a wardrobe.
Main set components
---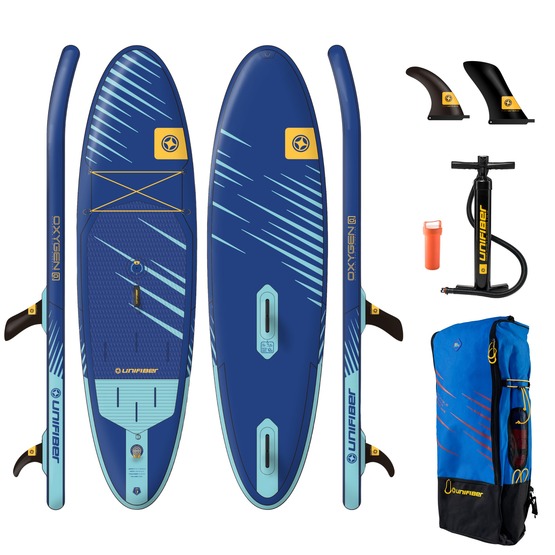 WindSUP board Oxygen 10'7 FCD
The Oxygen iWindSUP combines the best of both paddling and windsurfing experiences.

High volume and an all-round outline make the Oxygen a friendly board for recreational paddling.

If the wind picks up, the Oxygen iWindSUP features a baseplate insert to convert the SUP into a windsurfer. A special Friction Platform around the insert safeguards against over-tensioning the baseplate.

To improve upwind sailing performance a centre fin may be fitted.

The Oxygen iWindSUP is available in two constructions. The Single Layer version can be pumped to 15 psi. These are light weight and well-made boards with standard performance. The Fusion Composite Dropstitch version can be pumped to 20 psi. These boards have a more direct feel and are super stiff for the best possible performance.
Board is equipped with pump and backpack - essential accessories for transporting and preparing gear to session.
---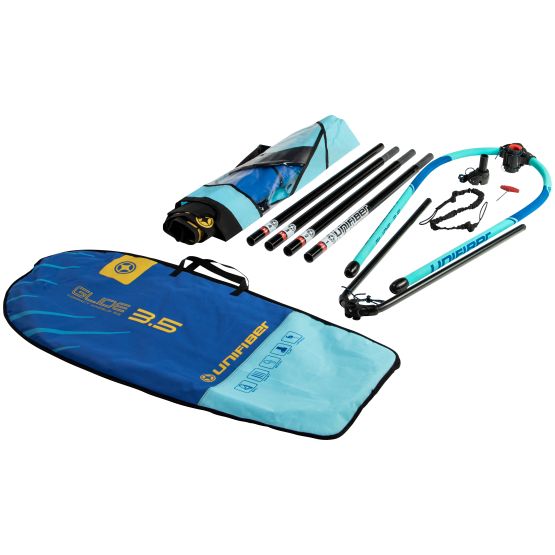 WindSUP Rig Glide
Explore the joys of windsurfing anywhere you like!

Designed to be as compact as possible, the Glide rig fits into any car boot to make it the perfect partner for an inflatable board. When derigged, its components are neatly stored in the sturdy padded bag.

The sail profile is shaped and optimised using 3D CAD software. On the water, the Glide sails smoothly and remains stable even in gusty winds.

Ideal for holidays and spontaneous day trips. With Glide, if there is water, you can windsurf!
---
SUP Paddle Energy Aluminium 3-piece
Developed as an all-around paddle, the Energy model is ideal for beginners or those going for durability.

With its convenient 3-piece setup, the paddle easily fits inside the iSUP bag.

The entire shaft is coated with EVA. This makes the Energy paddle very comfortable to hold as well as protects the board from accidental dings and scratches.

All Unifiber paddles feature an anti-twist system to keep the blade and shaft perfectly aligned.
Board
| Size | Length (cm) | Width (cm) | Thickness (cm) | Max reccommended weigh (kg) | Volume (l) | Weight (kg) | Fin box | Baseplate mount | Discipline |
| --- | --- | --- | --- | --- | --- | --- | --- | --- | --- |
| 10'7 | 323 | 84 | 12 | 95 | 266 | 10.30 | US-BOX | Insert | Allround/WindSUP |
Rigs for 2023, we only carry the 4.5 rig.  Other rigs available at extra costs
| Size (m2) | Luff - mast (cm) | Boom (cm) | Mast carbon % | Mast diameter  | Boom grip diameter  |
| --- | --- | --- | --- | --- | --- |
| 1.5 | 222 | 107 | Epoxy | RDM | 26 mm |
| 2.5 | 293 | 134 | Epoxy | RDM | 26 mm |
| 3.5 | 338 | 165 | Epoxy | RDM | 29 mm |
| 4.5 | 380 | 185 | Epoxy | RDM | 29 mm |
| 5.5 | 418 | 202 | Epoxy | RDM | 29 mm |
Paddle
| Min length | Max length | Shaft material | Blade material | Blade area | Shaft diameter | Shaft finishing | Weight |
| --- | --- | --- | --- | --- | --- | --- | --- |
| 170 | 210 | Aluminium | Nylon | 545 cm2 | 31.5 mm | EVA Foam Grip | 1.10 kg |